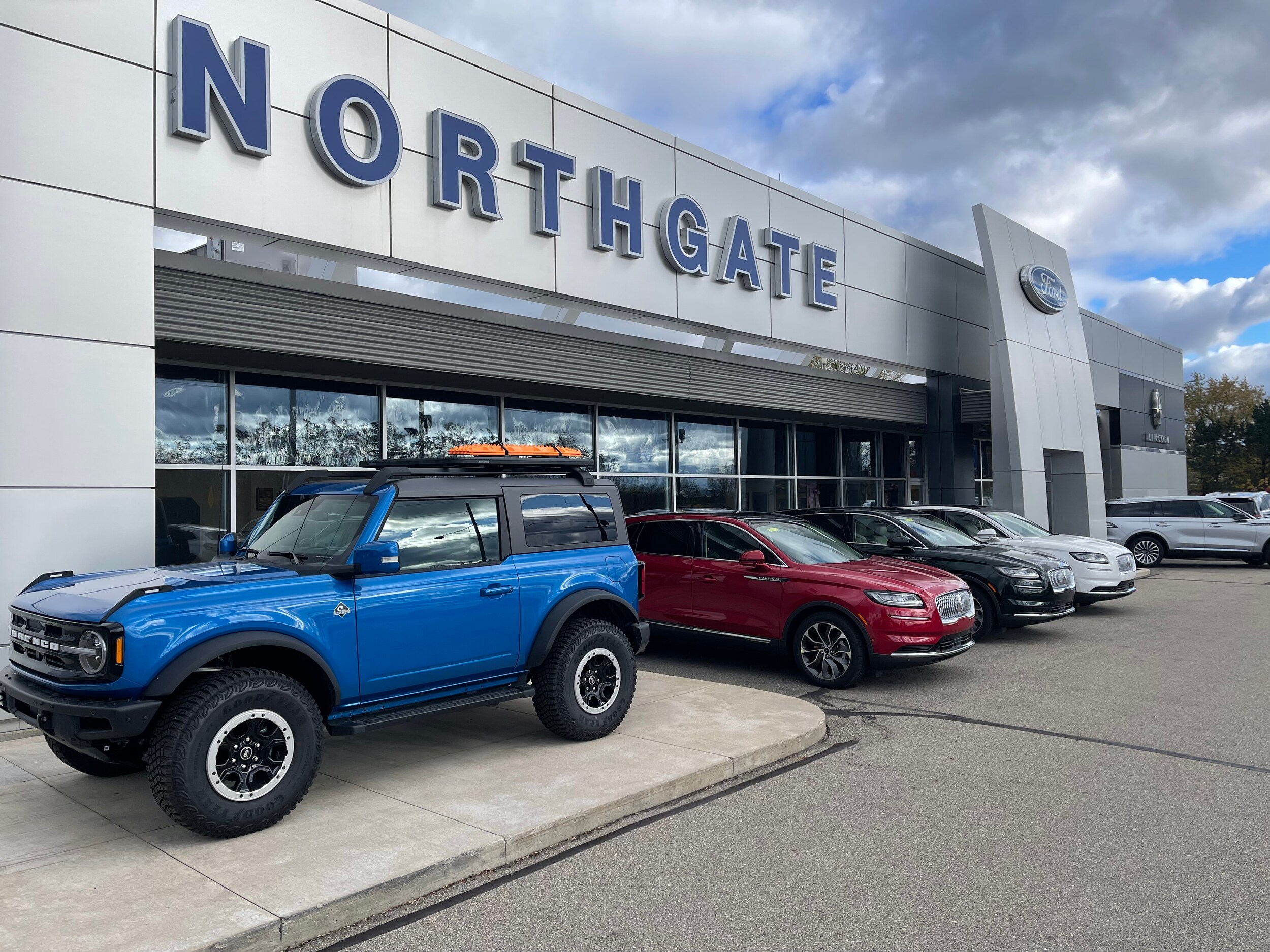 Northgate Ford Dealer

3600 Pine Grove Ave.
Port Huron, MI 48060
(844) 642-3272







Northgate Lincoln Dealer

3600 Pine Grove Ave.
Port Huron, MI 48060
(888) 639-5065






Welcome to Northgate Ford Lincoln
Welcome to NORTHGATE FORD LINCOLN , a luxury dealer in Port Huron, Michigan.
Our internet service will provide you the information you will need to begin your search for the vehicle you are interested in. It includes internet specials, secure online financing, extended warranty information, multiple vehicle photos,and vehicle options.
Our family-owned dealership has been serving the St.Clair County communities of Adair, Algonac, Allenton, Anchorville, Avoca, Berlin Twp., (Berville),Blaine, Brockway Twp., Burtchville Twp.,(Burtchville), Capac Twp.,(Capac) China Twp.,(China) ,Casco Twp.,(Casco), China Twp.(China), Clay Twp.,(Clay), Clyde Twp (Clyde), Columbus Twp. (Columbus), Cottrellville Twp (Cottrellville), Emmett Twp. (Emett), Fair Haven, Fargo, Fremont Twp., Fort Gratiot Twp. (Fort Gratiot), Gardendale, Goodells, Grant Twp., Greenwood Twp.,(Greenwood), Harsens Island, Ira Twp., Jeddo, Kenockee Twp (Kenockee), Kimball Twp. (Kimball), Lakeport, Lamb, Lynn Twp. (Lynn), Marine City, Marysville, Memphis, Mussey Twp.(Mussey), North Lakeport, North Street, Pearl Beach, Peters, Port Huron Twp.( Port Huron), Riley (Riley Center), Riley Twp., Roseburg, Ruby, Russell Island, St.Clair, St.Clair Twp., Smiths Creek, Sparingville, Wadhams, Wales, Wales Twp., Worth Twp., Yale, and Sanilac County: Port Sanilac, Croswell,Sandusky and Lexington since 1971. We also serve our neighbors in Canada.
Check out our quality selection of Ford cars, trucks and SUVs and Lincoln cars and SUVs available along with quality Certified Pre-Owned vehicles.
Northgate has the following Lincoln models available: MKC, MKS, MKT,MKX, MKZ, and Navigator. Our Ford models available are:Fiesta,Focus,Flex,Fusion,Explorer, Expedition, F-150,Super Duty Trucks: F-250,F-350,F-450,F-550,F-650, F-750, Edge, Escape, Mustang, Taurus, Ford Transit Connect,and E-Series.
Enjoy browsing through our inventory to find a vehicle that you might like to test drive. We can schedule a time that is convenient for you ...call us to set up an appointment time at (844) 642-3272.
Northgate Ford Lincoln, "Your Small Town Dealer with Big Town Savings."